Dr. Beatrice Kelemen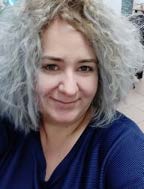 Beatrice Kelemen, PhD
Associate Professor

5-7 Clinicilor Street, 400006 Cluj-Napoca
42 Treboniu Laurian Street, 400271 Cluj-Napoca
Bioarchaeology & Molecular Anthropology
Tel: +40-722267323
beatrice.kelemen@ubbcluj.ro
Education:
PhD: Babeș-Bolyai University, Cluj-Napoca, România, Biology, 2003–2008
MSc.: Faculty of Science, University of Gent, Belgium, 2002–2003
B.S.: Faculty of Biology and Geology, Babeș-Bolyai University, 1996–2000

Research:
I am interested in the reconstruction, by means of a variety of molecular instruments and
methods, of biological landscapes and the lifestyles that defined historical populations and
societies. Of particular significance for me are the medieval populations and the space they
occupied in the proximity of the Romanian Black Sea coast. Their inferred demography,
movement, resource management and impact on the environment can be correlated with
cultural traces revealed by archaeological excavation.

Selected Publications:
Acatrinei, A., Rusu, I., Mircea, C., Zagrean-Tuza, C., Gál, E., Păceșilă, D., … & Kelemen, B.
(2021) Shedding light on the dark ages: Sketching potential trade relationships in early
Medieval Romania through mitochondrial DNA analysis of sheep remains. Diversity,
13(5), 208.
Rusu, I., Paica, I., Vulpoi, A., Radu, C., Mircea, C., Dobrinescu, C., … & Kelemen, B. (2019)
Dual DNA-protein extraction from human archeological remains. Archaeological and
Anthropological Sciences, 11(7), 3299-3307.
Mircea, C., Vulpoi, A., Rusu, I., Radu, C., Pârvu, M., & Kelemen, B. (2019) Exploring postexcavation
degradation potential of fungal communities associated with archaeological
human remains. Archaeometry, 61(3), 750-763.
Rusu, I., Modi, A., Vai, S., Pilli, E., Mircea, C., Radu, C., … & Kelemen, B. (2018) Maternal
DNA lineages at the gate of Europe in the 10th century AD. PLoS One, 13(3), e0193578.
Moens, T., Vanhove, S., De Mesel, I., Kelemen, B., Janssens, T., Dewicke, A., Vanreusel, A.
(2007). Carbon sources of Antarctic nematodes as revealed by natural carbon isotope
ratios and a pulse-chase experiment. Polar Biology, 31(1), 1-13.
Full publication list: https://scholar.google.com/citations?user=a9Gc0XwAAAAJ&hl=en
Teaching:
Molecular ecology and taxonomy
Bioarchaeology
Molecular anthropology
Developmental biology