Dr. Simion Simon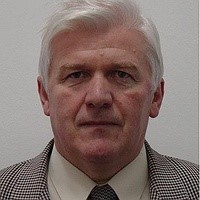 Simion Simon, PhD
Professor
Treboniu Laurian 42, room 109, 400271 Cluj-Napoca
Nanostructured materials with multifunctional properties, magnetis.
Tel: +40 264 454 554 ext. 112
Email: simion.simon@ubbcluj.ro
Education
B.S. and M.A. in Physics, Solid State Physics, Faculty of Physics, Babeș-Bolyai University, 1967
PhD: in Physics,  Faculty of Physics, Babeș-Bolyai University, 1986
Research
Professor Simion Simon currently holds the position of head of Institute of Interdisciplinary Research on Bio-Nano-Sciences of the Babes-Bolyai University (Cluj-Napoca, Romania), institute that he organized to be setup in 2001. His research interest is of highly interdisciplinary approach, involving various designs and characterization of nanostructured materials, with multifunctional properties for applications in nanotechnology, biomedical and environmental sciences.
Professor Simon is member of international scientific societies like: Materials Research Society (USA), International ESR Society, European Physical Society, AMPERE Society, American Ceramic Society, Fellow of the Institute of Physics (London) and was granted with several awards such as: Dragomir Hurmuzescu award of Romanian Academy for 1982 and. National Order "For Merit" – Knight rank (2002) and he was president of Romanian Physics Society for local branch Cluj in the time period 1998– 2010.
Selected Publications
Simon, S., Cavalu, S., Eniu, D. and Simon, V., 2021. Surface properties of collagen-functionalized aluminosilicate particles embedding iron and dysprosium designed for cancer therapy. Journal of Molecular Structure, 1236, p.130341.
Bessa, M.J., Brandão, F., Fokkens, P.H., Leseman, D.L., Boere, A.J.F., Cassee, F.R., Salmatonidis, A., Viana, M., Vulpoi, A., Simon, S. and Monfort, E., 2021. In vitro toxicity of industrially relevant engineered nanoparticles in human alveolar epithelial cells: Air–liquid interface versus submerged cultures. Nanomaterials, 11(12), p.3225.
Gruian, C.M., Rickert, C., Nicklisch, S.C., Vanea, E., Steinhoff, H.J. and Simon, S., 2017. Conformational changes and competitive adsorption between serum albumin and hemoglobin on bioceramic substrates. ChemPhysChem, 18(6), pp.634-642.
Oprea, B., Martínez, L., Román, E., Vanea, E., Simon, S. and Huttel, Y., 2015. Dispersion and functionalization of nanoparticles synthesized by gas aggregation source: opening new routes toward the fabrication of nanoparticles for biomedicine. Langmuir, 31(51), pp.13813-13820.
Gruian, C., Boehme, S., Simon, S., Steinhoff, H.J. and Klare, J.P., 2014. Assembly and function of the tRNA-modifying GTPase MnmE adsorbed to surface functionalized bioactive glass. ACS Applied Materials & Interfaces, 6(10), pp.7615-7625.
Courses held:
Undergraduate:
1. Electricity and magnetism
Electromagnetic field and life
Bioelectromagnetism
Graduate:
Electronic ceramics